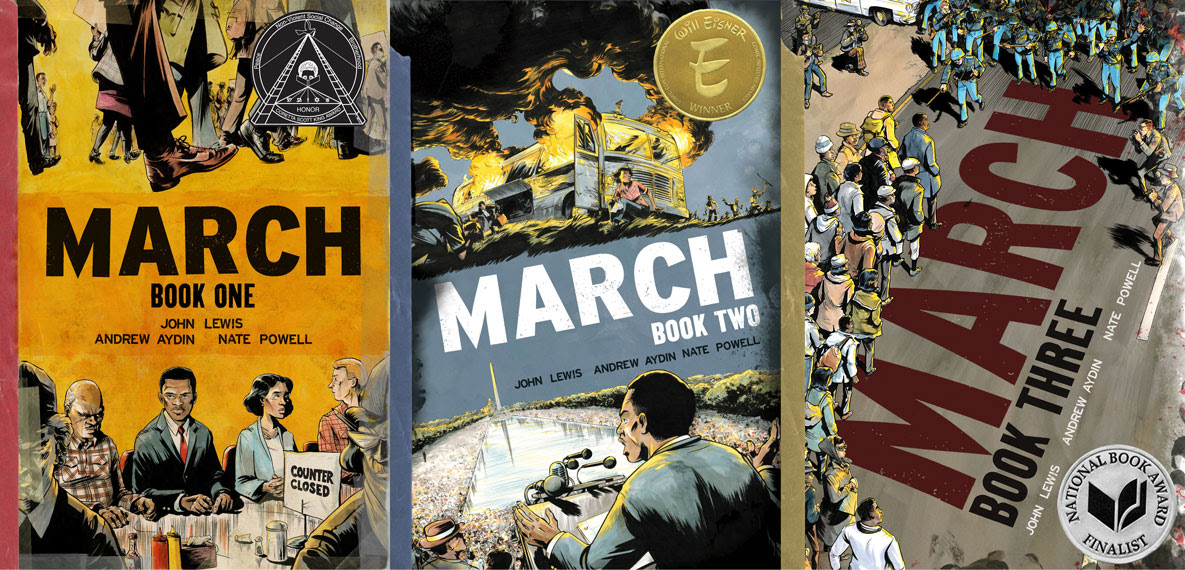 The National Book Foundation has announced the finalists for the 67th Annual National Book Awards — including, for the first time since 1957, a sitting member of Congress.
Congressman John Lewis, Andrew Aydin, and Nate Powell are now National Book Award finalists in the Young People's Literature category, for the concluding volume of their bestselling graphic novel trilogy March. The autobiographical series, which depicts Lewis's firsthand account of the Civil Rights Movement, has previously won such honors as the Robert F. Kennedy Book Award, the Eisner Award, two Harvey Awards, and a Coretta Scott King Author Honor. It is rapidly being adopted by universities and public school systems from New York to San Francisco, and recently spent six continuous weeks holding the top 3 spots on the New York Times Bestseller List.
"This is amazing to me," said Congressman Lewis. "I'm overwhelmed and deeply moved that March: Book Three is a finalist for the National Book Award. It is my hope that this honor inspires many more young people, and people not so young, to read March and to learn the transformative lessons of our ongoing struggle to create the beloved community."
Co-writer Andrew Aydin had this to say: "When I found out, I cried. I couldn't help it. This is such an unbelievable honor. It's been an incredibly long and difficult journey to get to this point, and I am deeply, deeply grateful to the judges and supporters who have gotten us here."
Artist Nate Powell added, "We're all blown away by how deeply this trilogy has been embraced. It's never been more urgent to understand and apply the Movement's history and perspectives — this work is for the unwritten future. We're grateful to be able to help those voices be heard."
Few graphic novels have previously reached NBA Finalist status, including such acclaimed works asAmerican Born Chinese and Boxers & Saints by Gene Luen Yang, Stitches by David Small, and Nimonaby Noelle Stevenson. Other notable finalists include The Catcher in the Rye, To Kill a Mockingbird, andProfiles in Courage by Senator John F. Kennedy, who is himself a character in March.
The March team will travel to New York City to join this year's other finalists for two days of festivitiesNovember 15th and 16th. For more details, visit http://www.nationalbook.org.