---
From worldwide media attention to the best-selling independent superhero debut of 2016, Faith "Zephyr" Herbert has stolen the spotlight around the globe! Now find out what makes Valiant's high-flying heroine tick as writers Jody Houser, Louise Simonson, Rafer Roberts, editor Tom Brennan, Editor-in-Chief Warren Simons, and CEO & CCO Dinesh Shamdasani dig deep to reveal the truth about Faith's secret origin, her breakout solo debut and her future adventures! Get ready to #FlyLikeFaith!

Guests: Jody Houser, Rafer Roberts, Louise Simonson, Tom Brennan, Warren Simons, Dinesh Shamdasani, and Special Guests!

---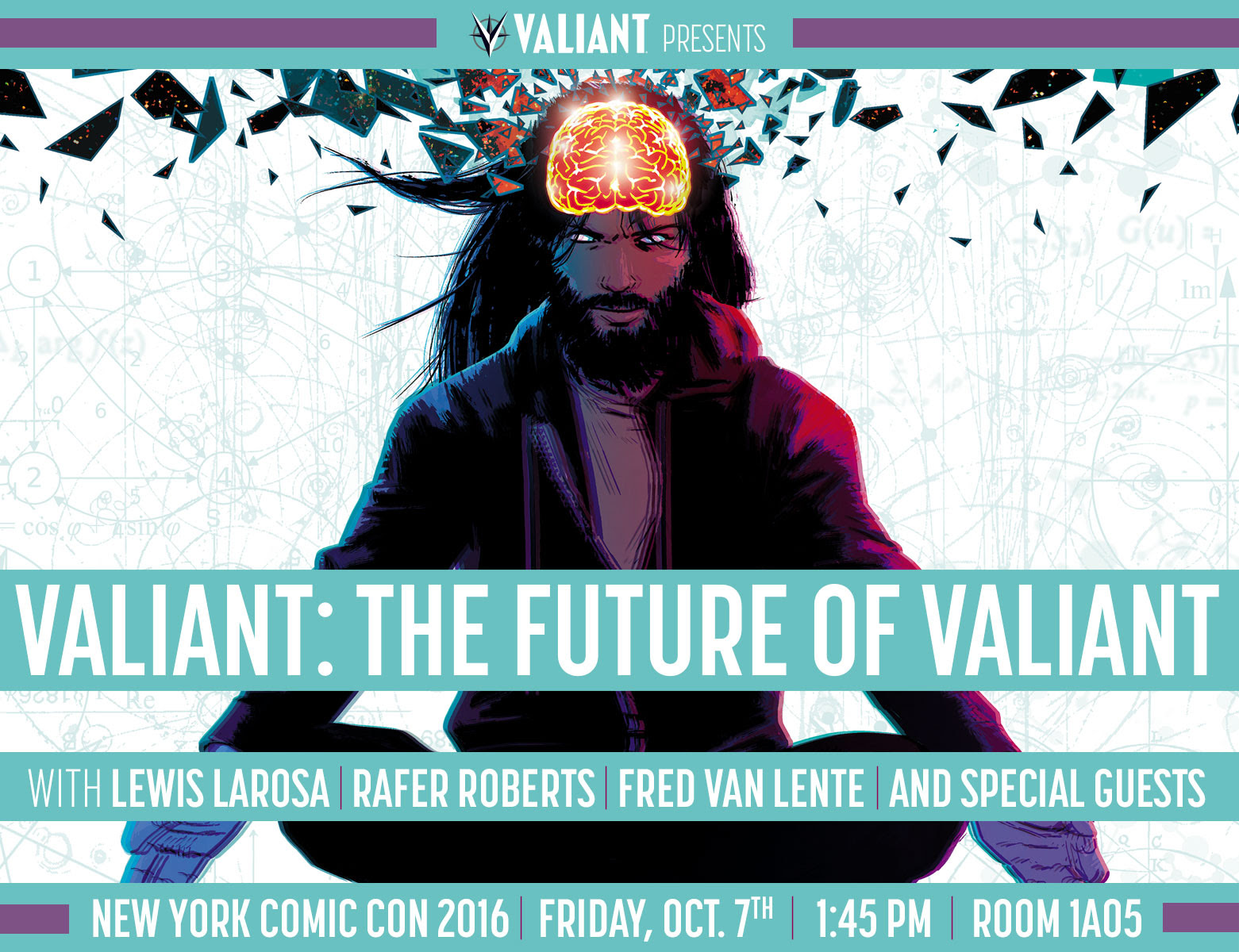 VALIANT: THE FUTURE OF VALIANT AND BEYOND
Friday, October 7th at 1:45 p.m.
Panel Room 1A05
With a record-setting 50 Harvey Award nominations, Valiant Entertainment is the most acclaimed publisher anywhere in comics today. Now, find out what's next for powerhouse series like FAITH,GENERATION ZERO, BRITANNIA, BLOODSHOT U.S.A., HARBINGER RENEGADES, SAVAGE andDIVINITY III: STALINVERSE right here with an all-star cast of Panelists including Lewis LaRosa, Rafer Roberts, Fred Van Lente, Editor-in-Chief Warren Simons and CEO & CCO Dinesh Shamdasani! The future of Valiant starts here!

Guests: Lewis LaRosa, Rafer Roberts, Fred Van Lente, Warren Simons, Dinesh Shamdasani, and Special Guests!

---
VALIANT x BAT IN THE SUN: TOP-SECRET ANNOUNCEMENT
Saturday, October 8th at 2:45 p.m.
Panel Room 1A21
Valiant Entertainment, the most acclaimed publisher in comics today, and Bat in the Sun Productions, the team behind the YouTube sensation Super Power Beat Down, join forces for a feature-length live-action series! Join directors

Aaron & Sean Schoenke

, stars

Michael Rowe

(

CW's Arrow/Flash)

,

Jason David Frank

(

Power Rangers

),

Derek Theler

(

Baby Daddy

), Valiant's top executives and more for a first look at footage from the top-secret project! Exclusive giveaway and signing to follow!!

Guests: Michael Rowe, Jason David Frank, John Morrison, Derek Theler, Chantelle Barry, Aaron & Sean Schoenke, Josh Johns, Dinesh Shamdasani, and Special Guests!