For May 18, Dark Horse has eight new single issues hitting stands!
SERIES LAUNCH!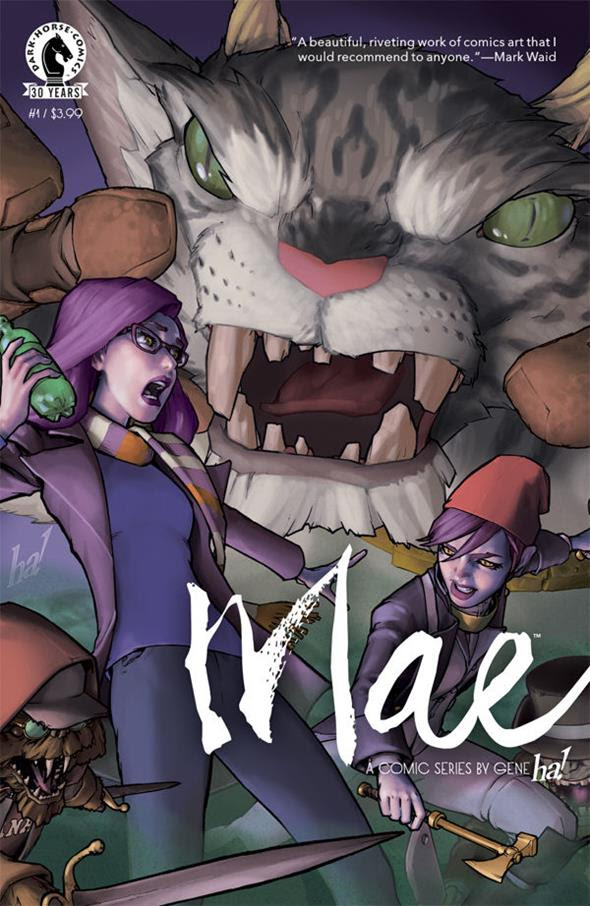 MAE #1
The Kickstarter sensation continues in comics!
When she was just a girl, Abbie discovered a portal to a fantasy world and for the last couple of years has been having great adventures there: defeating horrible monsters, power-mad scientists, and evil nobles. She was a celebrated action hero! But when she turned twenty-one it all came apart and she decided to return home. Her sister, Mae, has had no idea what happened to Abbie all this time. Her tales are too hard to believe; that is, until the monsters and other terrible creatures start to cross over to our world . . .
* A new series from four time Eisner-winning artist Gene Ha!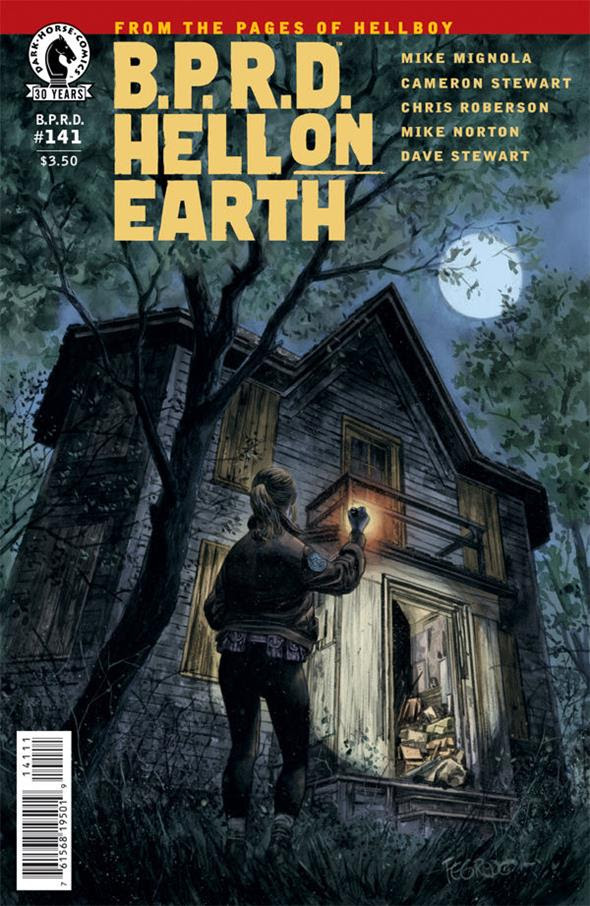 IB.P.R.D. HELL ON EARTH #141

Missing children and rumors of devil worship have led BPRD exorcist Ashley Strode to a rural near ghost town, where not everyone is ready to banish the town's demons.
BUFFY THE VAMPIRE SLAYER SEASON 10 #27
While Dawn and Xander are trapped in another dimension, Buffy, Willow, and Giles are deal with betrayal from the Magic Council, the faerie folk, and the military—no surprise there—all while trying to keep peace among themselves.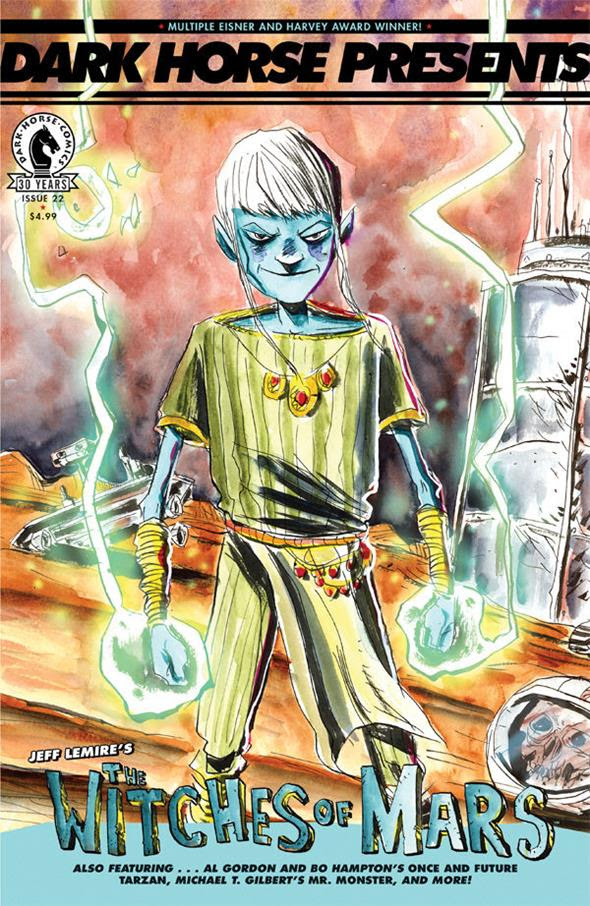 DARK HORSE PRESENTS #22
In this issue of the Harvey Award–winning Dark Horse Presents, Jeff Lemire introduces readers to the last surviving coven of extraterrestrial witches in the heartbreakingly magical story The Witches of Mars!
Swing alongside the King of the Jungle in the modern tale The Once and Future Tarzan, by Alan Gordon and Bo Hampton! And Michael T. Gilbert returns to DHP with a new installment of Mr. Monster!
This issue also features the continuations of Carla Speed McNeil's Finder: Chase the Lady, Paul Levitz and Tim Hamilton's Brooklyn Blood, and Dennis Calero's The Suit!
DEPT. H #2
Matt Kindt's survival sci-fi series continues!
Mia's investigation into the sabotage of an underwater station becomes complicated by the disappearance of a loved one, the loss of communications with the world above, and a confrontation with a giant squid and other strange creatures of the deep.
"Like a cross between sci-fi Jack London, The Abyss and the criss-cross espionage of Kindt's previous material, there is no element of this new project we're not ecstatically awaiting."—Paste Magazine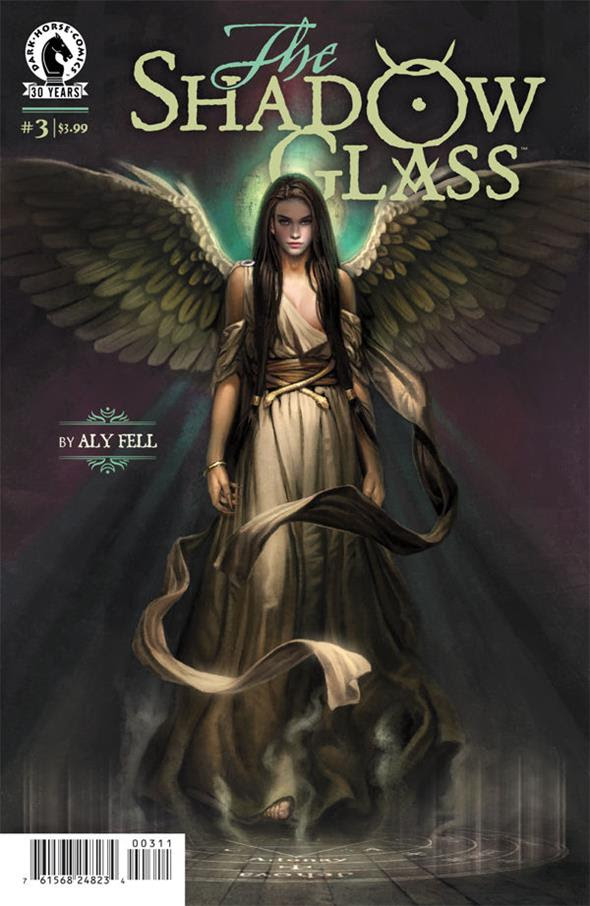 FINAL ISSUE
THE SHADOW GLASS #3
Rosalind witnesses her father and John Dee summoning a demon but decides she is the only one who can prevent the Shadow Glass, and the entity bound to it, from being used for evil purposes.
TOMB RAIDER II #4
After Rise of the Tomb Raider, Lara Croft's adventure continues with Eisner Award–winning writer Mariko Tamaki!
Fighting for survival in a raging river, Lara must abandon the team's provisions. She is undersupplied and on the trail of the dangerous, immortality-seeking Knights of the Spore—and the looming darkness within the jungle descends!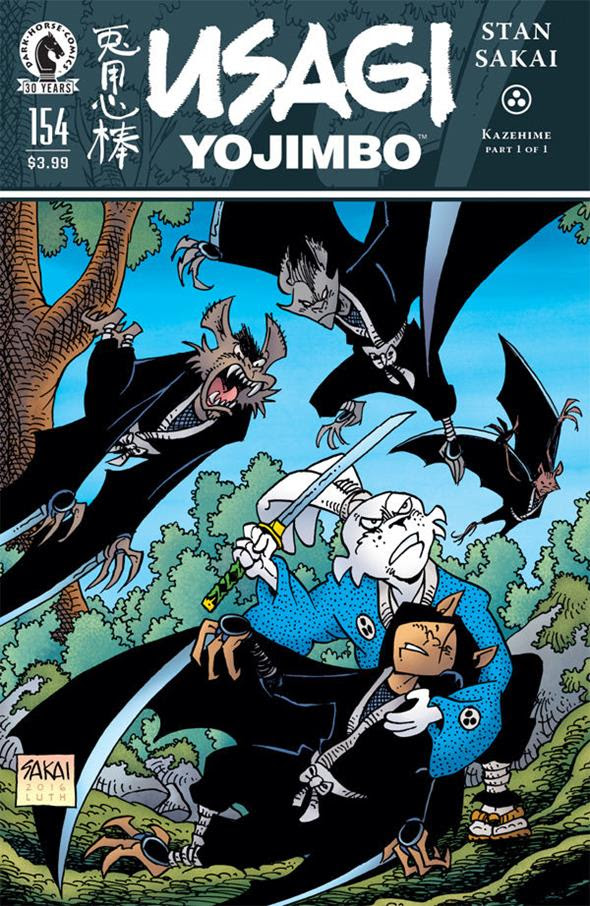 USAGI YOJIMBO #154
When Usagiprotects a Komori ninja during a raging storm, he never guesses that he will cross paths with her again . . . but many months later, fate places them on opposite sides of a trade agreement gone wrong. Usagi must protect the merchant, while the ninja has been hired to stop him. With the negotiation on the line, which side will emerge victorious?
"Sakai's Usagi Yojimbo is a genuine treasure, and this issue is no exception."—Comic Book Resources
GRAPHIC NOVELS & TRADES
B.P.R.D. HELL ON EARTH VOLUME 13: END OF DAYS TPB
The Hell on Earth as we know it comes to an end. In a drastic change, one of the most terrifying creatures in existence has been released. Can the BPRD defend the world—and humanity—or is this finally the end? This volume collects B.P.R.D. Hell on Earth #135–#139.
BIRD BOY VOLUME 1: THE SWORD OF MALI MANI TPB
"Stunningly beautiful, strange (in the best way possible), and refreshingly original. Oh, and that little guy is just adorable."—Mike Mignola (Hellboy)
Bird Boy follows the story of Bali, a ten-year-old boy desperate to prove his worth to his northern tribe despite his small stature. Banned from the ceremony that would make him an adult in the eyes of his people, he takes matters into his own hands. To prove that he is capable of taking care of himself, he sets out into the forbidden forest and stumbles upon a legendary weapon. Bali fights his way across a dangerous land of gods, men, and beasts to keep the sword of Mali Mani, the savior of the sun, from the hands of the terrifying Rooks.
"Wow! I love it! It looks like a cross between anime and those Saturday morning adventure cartoons. I want to read it now."—Franco (Aw Yeah Comics)
BLOOD-C: DEMONIC MOONLIGHT VOLUME 1 TPB
The prequel to the Blood-C saga from CLAMP, Production I.G, and artist Ryo Haduki! In occupied Japan in 1946, an American military investigator is sent to the Yokohama base to research a number of bizarre deaths. He soon discovers that the murderer isn't human! Blood-C: Demonic Moonlight is the prequel fans have been waiting for!
* The prequel story to the entire Blood-C series!
* Dark Horse has sold over 70,000 copies of Blood+!
DEAD VENGEANCE HC
It's 1940, and a phony body on exhibit in a carnival sideshow suddenly springs to life and shambles away. Not so phony after all: he is John Doe, radio commentator and archenemy of Detroit's notorious Purple Gang. But why did he disappear in 1930, and why did the mayor, the mob, and the cops all want him dead? Collects Dead Vengeance #1–#4.
* Featuring pinups by Darwyn Cooke, Mike Allred and William Stout.
"If you like seeing comics be comics and really use the medium to transport you to another time and era, then Dead Vengeance is that book for you."—Comic Bastards
EVE: VALKYRIE HC
This series leads into EVE: Valkyrie, one of the most hotly anticipated video games of all time—a groundbreaking virtual reality space dogfighting shooter from the creators of EVE Online. With cloning technology that transmits them into a new body each time the old one dies, the Valkyrie are immortal—the most skilled and fearless pilots money can buy, mercenaries with loyalty to no one but each other. Collects the four-issue miniseries.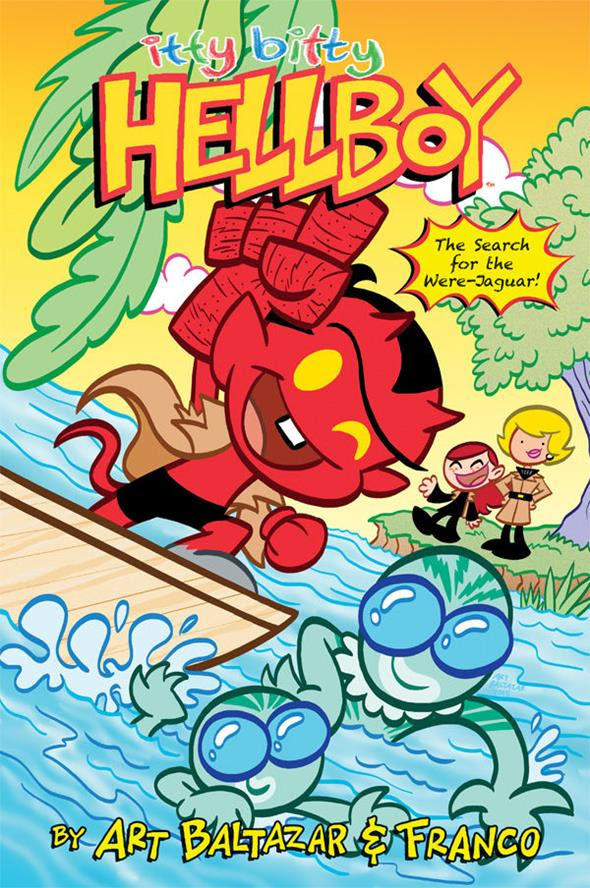 ITTY BITTY HELLBOY: THE SEARCH FOR THE WERE-JAGUAR! TPB
Art Baltazar and Franco return to Itty Bitty Hellboy! Hellboy, Abe, Liz, and friends are on a quest . . . to deliver underwear to the Island of Rogers! But their mission is interrupted by the discovery of the mysterious beast known as the were-jaguar! Collects Itty Bitty Hellboy: The Search for the Were-Jaguar #1–#4!
* New story in the Eisner Award–winning series!
"Itty Bitty Hellboy is bite-sized, adorable Hellboy fun for all ages."—Comic Vine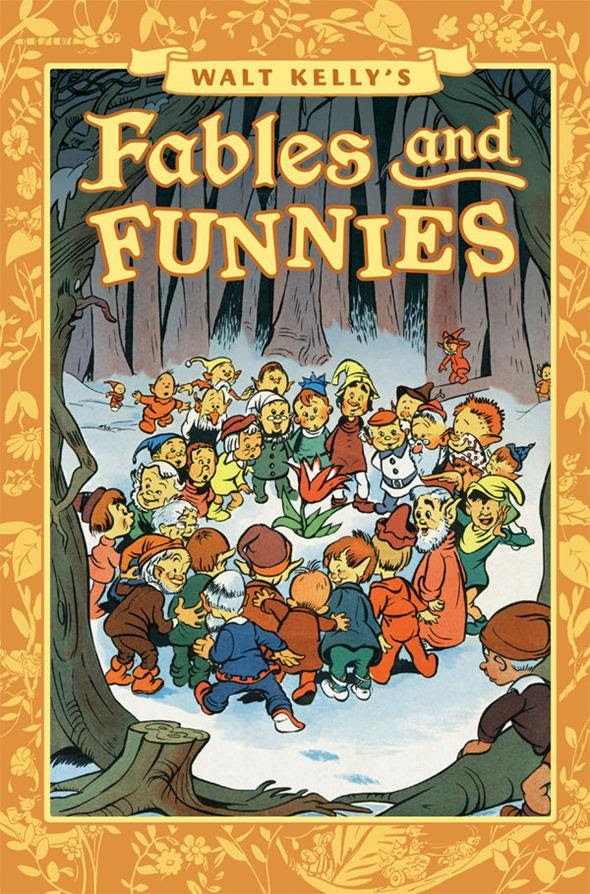 WALT KELLY'S FABLES AND FUNNIES HC
FROM THE INCOMPARABLE WALT KELLY!
Before achieving international fame as the creator of Pogo, Walt Kelly illustrated numerous fairy tales and nursery rhymes for Dell Comics in the 1940s. Featuring selections from Fairy Tale Parade, Four Color Comics, Raggedy Ann and Andy, and Santa Claus Funnies, this volume exemplifies the legacy of one of comics' greatest masters.
* Kelly won a Reuben Award and an Inkpot Award and was an inductee into both the National Cartoon Museum and the Will Eisner Hall of Fame.
* Includes a foreword by author John E. Petty and a preface by editor David W. Tosh.
ZODIAC STARFORCE: BY THE POWER OF ASTRA TPB
An elite group of teenage girls with magical powers have sworn to protect our planet against dark creatures . . . as long as they can get out of class! Known as the Zodiac Starforce, these high-school girls aren't just combating math tests. They're also battling monsters! But when an evil force infects leader Emma, she must work with her team to save herself—and the world—from the evil Diana and her mean-girl minions! Collects Zodiac Starforce #1–#4.
* A brand-new creator-owned series from Kevin Panetta (Bravest Warriors) and Paulina Ganucheau (TMNT: New Animated Adventures, Bravest Warriors) for fans of Sailor Moon, Buffy, and Lumberjanes!
"Zodiac Starforce is your new favorite thing."—The Mary Sue
"Smart, clever, interesting and pretty as all get out."—Major Spoilers