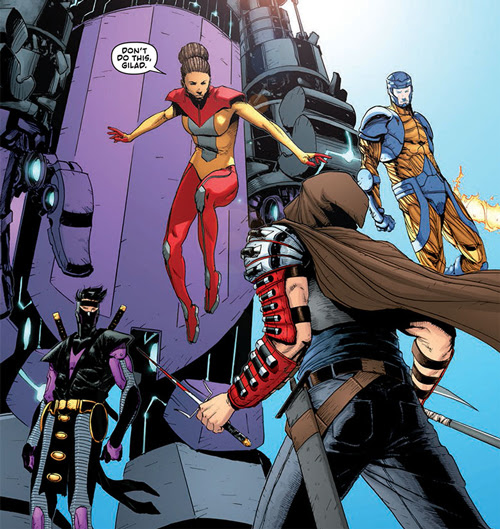 Valiant is proud to present the first look inside
BOOK OF DEATH #2 (of 4)
– the second can't-miss chapter of Valiant's cataclysmic summer event from New York Times best-selling writer
Robert Venditti
(X-O MANOWAR) and all-star artists
Robert Gill
(ARMOR HUNTERS: HARBINGER) and
Doug Braithwaite
(UNITY)! On 
August 19th
, the Valiant Universe's most powerful heroes join the hunt for the new Geomancer suspected of plunging the world into darkness… And, now, only the Eternal Warrior can protect her from his own former allies and prevent the events foretold in the Geomancer's
BOOK OF DEATH
from coming to pass!
Convinced the unnatural disasters tearing our world apart are a direct result of the new Geomancer's arrival, the combined forces of Unity – including X-O Manowar, Ninjak, Livewire, and GIN-GR – are about to confront the Eternal Warrior about the true nature of his powerful new charge! They've sworn to take him in by any means necessary…but, to prevent civilization from falling into a new Dark Age, the Eternal Warrior won't go down without a fight! Can history's most battle-hardened warrior convince his old comrades that peace can still be won? Or will war, blood, and fire consume the heroes of the Valiant Universe as they face the full fury of the Eternal Warrior unleashed for the very first time?
Be here on 
August 19th
 as Valiant superstars
Robert Venditti
,
Robert Gill
, and
Doug Braithwaite
detonate the next earth-shaking installment of Valiant's colossal summer event in 
BOOK OF DEATH #2 (of 4)
– featuring covers by
Cary Nord
(X-O MANOWAR),
Clayton Crain
(RAI),
Kano
(THE DELINQUENTS),
Pere Perez
(ARCHER & ARMSTRONG), and
Paolo Rivera
(THE VALIANT)! Featuring the last stands of Valiant icons, the first appearances of all-new heroes, and tantalizing clues of future events,
BOOK OF DEATH
is the gateway to the next decade of the Valiant Universe and beyond!
Plus: in the wake of BOOK OF DEATH #1 (of 4) – in stores July 15th – the must-read comic milestone of the 2015 continues all summer with four visionary tales of present and future ripped directly from the pages of the Book of the Geomancer! Each month, join an all-star cast of creators as they come aboard the year's monumental comics event to chronicle the ultimate fate of Valiant's most indelible heroes. From the modern day to the far future, the destinies of Bloodshot, Ninjak, the Harbinger Renegades, X-O Manowar, and more will stand revealed in four essential, standalone chapters at the epicenter ofBOOK OF DEATH:
BOOK OF DEATH: THE FALL OF BLOODSHOT #1
Written by Jeff Lemire; Art by Doug Braithwaite
Cover by Rafa Sandoval
ONE-SHOT | On sale in July
BOOK OF DEATH: THE FALL OF NINJAK #1
Written by Matt Kindt; Art by Trevor Hairsine
Cover by Kano
ONE-SHOT | On sale in August
BOOK OF DEATH: THE FALL OF HARBINGER #1
Written by Joshua Dysart; Art by Kano
Cover by Raul Allen
ONE-SHOT | On sale in September
BOOK OF DEATH: THE FALL OF X-O MANOWAR #1
Written by Robert Venditti; Art by Clayton Henry
Cover by Cary Nord
ONE-SHOT | On sale in October
BOOK OF DEATH #1 (of 4)
Written by ROBERT VENDITTI
Art by ROBERT GILL & DOUG BRAITHWAITE
Cover A by ROBERT GILL (MAY151586)
Cover B by CARY NORD (MAY151587)
Cover C by CLAYTON CRAIN (MAY151588)
Cover D by JELENA KEVIC-DJURDJEVIC (MAY151589)
Character Design Variant by PAOLO RIVERA (MAY151591)
Valiant Icons Variant by PERE PEREZ (MAY151592)
Artist Variant by PAOLO RIVERA (MAY151593)
Blank Cover also available (MAY151590)
$3.99 | 40 pgs. | T+ | On Sale JULY 15 (FOC – 6/22/15)
BOOK OF DEATH: THE FALL OF BLOODSHOT #1 
Written by JEFF LEMIRE
Art by DOUG BRAITHWAITE
Cover A by RAFA SANDOVAL (MAY151595)
Cover B by JEFTE PALO (MAY151596)
Variant Cover by DAVID YARDIN (MAY151597)
Variant Cover by TOM FOWLER (MAY151598)
$3.99 | 32 pgs. | T+ | ONE-SHOT |On Sale JULY 22 (FOC – 6/29/15)
BOOK OF DEATH #2 (of 4)
Written by ROBERT VENDITTI
Art by ROBERT GILL and DOUG BRAITHWAITE
Cover A by CARY NORD (JUN151591)
Cover B by CLAYTON CRAIN (JUN151592)
Cover C by KANO (JUN151593)
Valiant Icons Variant by PERE PEREZ (JUN151594)
Artist Variant by PAOLO RIVERA (JUN151595)
$3.99 | 40 pgs. | T+ | On Sale AUGUST 19 (FOC – 7/27/15)
BOOK OF DEATH: THE FALL OF NINJAK #1
Written by MATT KINDT
Art by TREVOR HAIRSINE
Cover A by KANO (JUN151597)
Cover B by CLAY MANN (JUN151598)
Variant Cover by ROBERT GILL (JUN151599)
Variant Cover by DAS PASTORAS (JUN151600)
$3.99 US | 32 pages | T+ | ONE-SHOT | On Sale AUGUST 26 (FOC – 8/3/15)