BALTIMORE, MARYLAND – February 10, 2014 – Year after year, the staff at the Baltimore Comic-Con strives to make our show bigger and better, and our 15th annual event will be no different. The premiere 3-day gala occurs the weekend of September 5-7, 2014!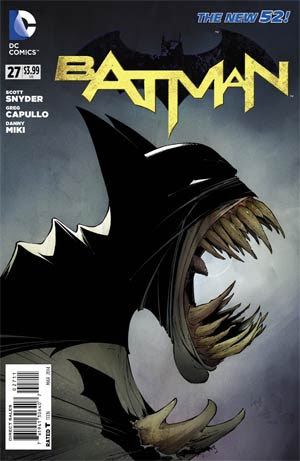 Our announced guests today are noteworthy for their artistic contributions to the industry, and specifically their recent work at DC Comics.
After some initial success at small-press publisher FantaCo, Greg Capullo landed work in the 1990s at Marvel Comics on titles such as Quasar, What If..?, and X-Force. Todd MacFarlane approached Capullo to do work for him at Image Comics on MacFarlane's Spawn, which led to a run on the title, spin-offs, and other notable titles under the Image umbrella including Haunt and Capullo's The Creech.  DC Comics wooed Capullo to take over art duties on Batman during their New 52 relaunch, a run that went on to earn great accolades.
Joining us from Canada, David Finch received recognition for his early work at Top Cow Productions on titles such as
Cyberforce, Ascension, and Aphrodite IX. He then went on to spend a number of years at Marvel Comics, working on blockbuster titles including Ultimate X-Men, Avengers (and the relaunched New Avengers), and Moon Knight before jumping into an exclusive contract with DC Comics in 2010 where he flexed his writing muscles as well as his drawing skills on Batman:  The Dark Knight. He is currently working on DC's Forever Evil.
The Brazilian team of Ivan Reis and Joe Prado will also return to the Baltimore Comic-Con in 2014!  Reis began his career at Dark Horse with a long run on Ghost and follow-up work on The Mask, Time Cop, and Xena.  He has worked on Marvel titles like Avengers, Iron Man, and Defenders, and at DC on Action Comics, Teen Titans, and Superman.  Prado's line work has graced the pages and covers of DC Comics' Superman, Teen Titans, Birds of Prey, and Rann/Thanagar War. Together, they are currently working on Justice League and Aquaman and The Others, also from DC Comics.
"We love what these gentlemen have brought to the DC Comics Universe, and comics art in general," commented Marc Nathan, promoter of the Baltimore Comic-Con.  "It is an absolute pleasure to welcome them back, and we know our fans will be thrilled to hear they'll be joining us again!"
This year's previously confirmed guests for the show include: Marty Baumann (Pixar artist); Jeremy Bastian (Cursed Pirate Girl); Dave Bullock (Batman Black and White); Bernard Chang (Green Lantern Corps); Sean Chen (Amazing Spider-Man); Jimmy Cheung (Infinity); Cliff Chiang (Wonder Woman); Frank Cho (X-Men:  Battle of the Atom); Richard Clark (House of Gold & Bones); Steve Conley (Bloop); Alan Davis (Wolverine); Tommy Lee Edwards (Suicide Risk); Garth Ennis (Preacher, The Boys); Dave Gibbons (Watchmen); Bryan JL Glass (Mice Templar); Michael Golden (The Ravagers); Cully Hamner (Animal Man); Dean Haspiel (The Fox); Fred Hembeck (Garfield); Adam Hughes (Before Watchmen: Dr. Manhattan); JG Jones (Green Lantern Corps, Batman Black and White); Justin Jordan (Luther Strode, Green Lantern: New Guardians); Barry Kitson (Empire); Aaron Kuder (Action Comics); David Mack (Shadowman); Kevin Maguire (Guardians of the Galaxy); Alex Maleev (Moon Knight); Ron Marz (Witchblade); Bob McLeod (X-Men: Gold); Tradd Moore (Deadpool Annual); Mark Morales (New Avengers); Dan Parent (Archie, Veronica, Kevin Keller); David Peterson (Mouse Guard); Eric Powell (The Goon); Brian Pulido (Lady Death); Budd Root (Cavewoman); Alex Saviuk (Web of Spider-Man); Andy Smith (Superman #23.1: Bizarro); John K. Snyder III (Zorro Rides Again); Allison Sohn (sketch card artist); Charles Soule (Thunderbolts); Ben Templesmith (The Memory Collectors); Peter Tomasi (Batman and Two-Face); John Totleben (Swamp Thing); Herb Trimpe (GI Joe: A Real American Hero); Billy Tucci (Shi); Rick Veitch (Saga of the Swamp Thing); Matt Wagner (Grendel); Mark Waid (Daredevil); Bill Willingham (Fables); Renee Witterstaetter (Joe Jusko: Maelstrom); and Thom Zahler (My Little Pony).
In the coming weeks, look for more announcements from the Baltimore Comic-Con. We are looking forward to highlighting our guests, the Harvey Awards, industry exclusives, and programming. The latest developments can always be found on our website, Twitter, and Facebook pages.